ASIMCO Group Recognized by DCEC's Three Awards in 2021
2022.01.15
At the very beginning of 2022, ASIMCO Shanxi, ASIMCO Camshaft and ASIMCO Shuanghuan received DCEC's Best VPI Support Award, Best Quality Improvement Award and Best Delivery Award for the year 2021 separately.
Since ASIMCO is DCEC's strategic supplier, all its operating companies provide the latter with products and services. The two parties have maintained close partnership for over two decades. ASIMCO has tried to keep pace with DCEC's development by continuously increasing quality and technology. What's more, they have explored the cooperation possibilities in the new projects.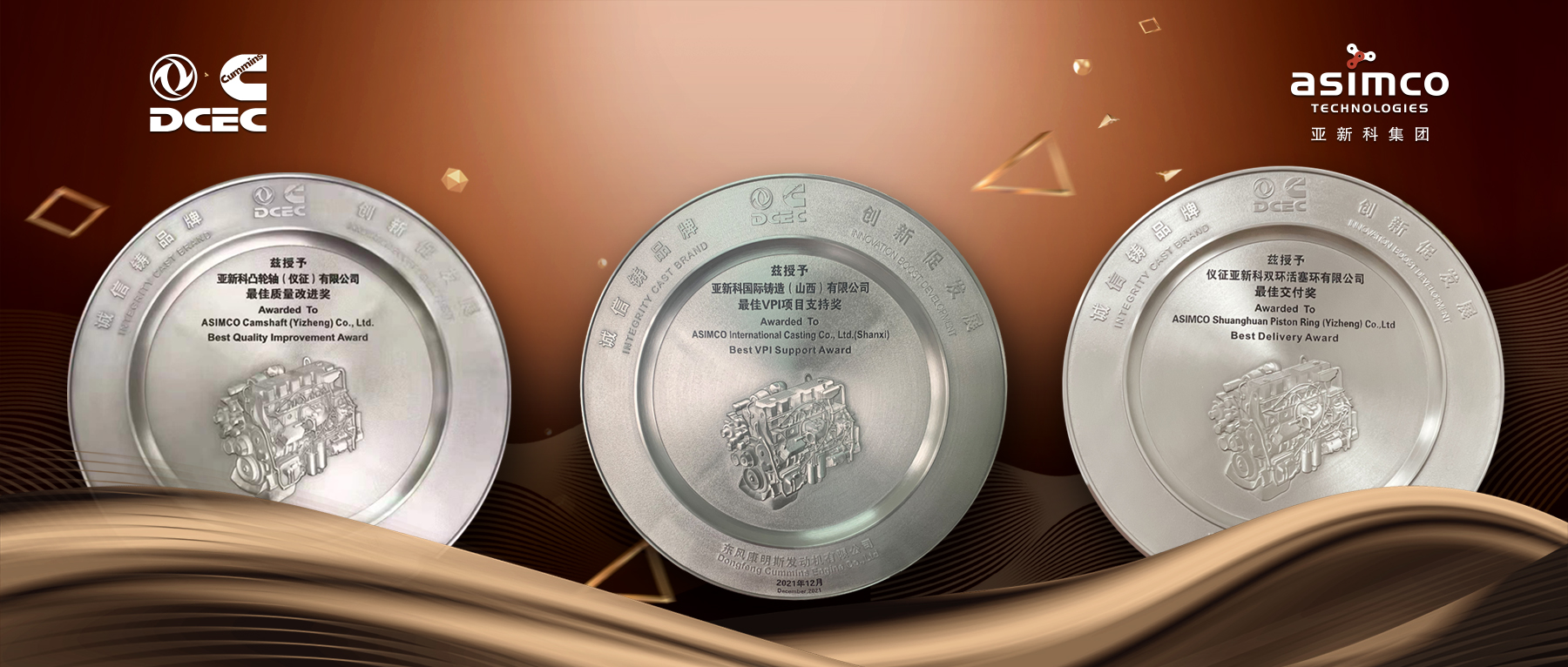 ASIMCO Shanxi reported BIS zero defect, actively participated in Legend / Z15 /Z15N, and achieved 100% delivery rate of new samples. Moreover, the company assigned the project manager to be responsible for the development of new products. The company's APQP key links enjoyed 100% completion rate. In fact, all the products provided by the company not merely attained annual quality target, but performed better than the average quality level. The company was honored by DCEC's Best VPI Support Award for 2021.
ASIMCO Camshaft achieved 100% OTD, zero ATPU complaint and BIS zero defect. The company considered it as its top concern to meet DCEC's needs. Due to its outstanding performance, the company was recognized again by DCEC's Best Quality Improvement Award for 2021.
ASIMCO Shuanghuan recorded 100% delivery rate and BIS zero defect. The company provided piston rings for DCEC's all the models and valve seats for its Z15N. The company upheld the "client-oriented" philosophy and efficiently provided clients with the products that they needed to create values for them. The company was awarded DCEC's Best Delivery for 2021.
The year 2022 marks the start of DCEC's "312" three-year development strategy and the beginning of ASIMCO Group's new "five-year" development plan. In this significant year, ASIMCO will remain loyal to its philosophy of "clients first, quality as priority and striving for excellence" and try to further enhance its core competence in order to live up to DCEC's recognition and trust and elevate the strategic partnership to the new height and secure a better future for both parties.